Valentine's Day isn't about flowers, chocolate, jewelry, fancy dinners or whether you're in a relationship or not.  It's about giving and showing love.
Give love to yourself.  Do something nice just for you.  Do something that has no purpose other than to make you happy.  Do something that doesn't check anything off your to do list.  Take a walk, do something you really enjoy, paint, listen to your favorite music, go to a movie, take a nap, get a massage, sit in silence…whatever you decide – enjoy it.
Give love to your family.  Tell your parents, kids, grandparents, friends, significant others that you love them.   It doesn't have to be with a chocolate heart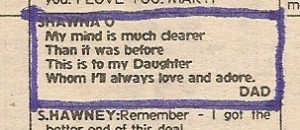 or flowers.  Just a call them, hug them, spend time with them.  When I was a little girl my dad put "Love Notes" in the Washington Post for me.  It was the greatest thing ever and I loved every one.
Give love to others.  Be kind to your neighbors, co-workers or strangers.  Hold the door for someone, help a neighbor shovel their driveway, check on an elderly neighbor, smile at the cashier at the grocery store, have a little extra patience during a frustrating situation.  It doesn't take much on your end, but it could mean the world to someone else.
Valentine's Day isn't for lovers (that's what Virginia is for).   It's just for love.  So spread love today and every day.  Let Love Rule!!