I'm not really into making resolutions because I used to make them and then beat myself up for not doing what I said. It's exhausting and just plain sucks.
So this year I'm not making any resolutions but I will make some wishes for 2014.
I will practice more kindness and compassion towards myself and others.
I will laugh more and worry less.
I will care less what other people think.
I will do more of what I love and less of what I don't.
I will find the humor in the absurd.
I will live it to give it.
I will find inspiration in unlikely places.
I will be thankful for the simple things.
I will stop "should'ing" all over myself.
I will find the good in any situation.
And I will be excited for whatever comes my way this year!!
Hope your new year is incredible!
---
Make a Memory Jar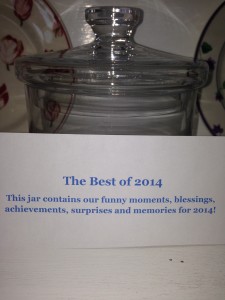 For 2014 I've made a Memory Jar.  What's a memory jar you ask?  It's a jar to save the moments of the year.
Here's how it works.  On a small piece of paper write down the things you want to remember and put them into the jar. Then on December 31, 2014 and open the jar and read all the pieces of paper and look back on all the wonderful moments 2014 had to offer.   You can write down funny moments, blessings, accomplishments, surprises, memories, etc.
I think is going to be so much fun and I can't wait to hear all the wonderful things you put in your jars!